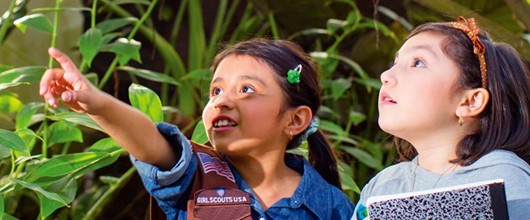 Join as a Volunteer
Girl Scouts of Eastern Iowa & Western Illinois relies on nearly 4,000  dedicated, enthusiastic volunteers like you to lead our troops, help at camp, teach workshops, and more. We just couldn't do it without you!

As a volunteer, you'll introduce girls to new experiences that show them they're capable of more than they ever imagined. You will be amazed at what girls can achieve when they work together with the guidance from volunteers and troop leaders.

You'll be their cheerleader, guide, and mentor, helping them develop essential life skills and confidence that will last a lifetime. Imagine the excitement, the impact, the memories made—those are the moments you'll share at Girl Scouts.


How to Join Girl Scouts as a Volunteer  

Register as a volunteer. Whether you are a new volunteer or are just adding a new role, begin the process here. We will first need some basic information to get you set up in our system.

Select a role. You can browse the volunteer opportunities in your area, or volunteer for a particular troop. Not sure which role is right for you? Learn more about our most common roles and ways to volunteer. If you are still hesitant to select a specific role, please select "Unsure" during the sign-up process and a member of our team will help you find the perfect fit.

Become a member. Next, you will provide us with additional details about yourself, as well as pay the national membership fee. This fee helps support the national Girl Scouts organization, covers you under our liability insurance, and supports the research and program development our local council relies upon.

Complete a background check. Because our volunteers work directly with youth, completion of a background check is required. This will take a few days to process.

Complete your training and orientation. Looking for training opportunities and resources that will help set you up for success? Check out our volunteer resources.