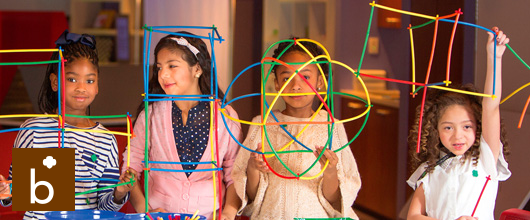 What Brownies Do
Girl Scout Brownies are ready to take on the world, and Girl Scouting lets them do just that! They want to learn new things and show off what they know. They want to explore the world and meet new people. And they want to do something big that makes them feel great!
They get to do all these things and more in Girl Scouts: take that first hike in the great outdoors; visit a science museum; band together as a mighty Brownie team to sell cookies—and use some of the money to help others. Life is good when you're a Brownie!
As a Brownie, she might:

Expand her circle of friends in a troop


Do a project that makes a difference in her community (and beyond) as part of a Girl Scout Leadership Journey
 

Explore nature and the outdoors
 
Badge Spotlight
Space Science Adventurer: Investigate the complexities of the sky as you learn to see things in a new way.
Pets: Learn how to choose the pet that's right for you—or find out how to take the best care of a pet you already have. 
Money Manager: Learn the difference between needs, like food and clothing, and wants, like video games and movie tickets.
Eco Friend: Find out how to treat outdoor spaces with kindness and teach others how they can, too.

Click here for Brownie activities near you.
Want to see how we'll support your girl into the tough middle school years? Check it out here. What about all the way to college? We do that too.